Beers:
2114
Breweries:
544
Styles:
98
States:
51*
Latest beer added:
Peck's Porter
Brewed by:
Tapistry Brewing
Check out the ONLY canned beer database on the web.
*That includes Washington,DC!
Wednesday, April 20th 2016
New Glarus to Begin Canning
Wisconsin's storied New Glarus Brewing Company has announced the purchase of a canning line. According to the brewery's Instagram feed,
"We're so excited to announce we're installing a can line! We'll be canning Moon Man with Spotted Cow to follow. The team is working hard to get the machine installed and I'll keep you updated on can release schedule.

A lot of Wisconsin love will be going into those cans. The cans, the boxes, the beer, even the machine used to fill the cans! All made in Wisconsin!"
No word on when exactly the brewery expects cans to be on shelves but we'd imagine they'll be looking to get them out in time for the Wisconsin summer.
Moon Man is a seriously cool cat. Always comfortable in his own skin, he never tries too hard. So cool we named our "no coast" pale ale after him.

You hold a session beer with a bright bold blend of five hops that flirt obligingly with the smooth malty backside. Don't let this one lay around it is brewed to be enjoyed today. Bold and engaging without pretense, because in Wisconsin you do not have to be extreme to be real.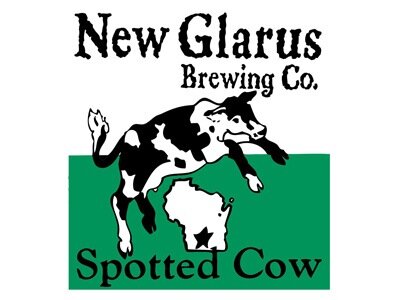 Cask conditioned ale has been the popular choice among brews since long before prohibition. We continue this pioneer spirit with our Wisconsin farmhouse ale. Brewed with flaked barley and the finest Wisconsin malts. We even give a nod to our farmers.

Naturally cloudy we allow the yeast to remain in the bottle to enhance fullness of flavors, which cannot be duplicated otherwise. Expect this ale to be fun, fruity and satisfying. You know you're in Wisconsin when you see the Spotted Cow.
Posted by Russ
Monday, April 18th 2016
Oskar Blues and NOLA Brewing team up and can The Wolf and The Lamb
Longmont, CO & Brevard, NC. - Oskar Blues Brewery and NOLA Brewing teamed up to create a limited release collaBREWation in honor of the historic New Orleans Jazz Fest.
The creation involved a daylong brewing session with the NOLA and Oskar Blues teams at the brewery in Longmont, ColoRADo. The result: The Wolf and The Lamb. The crews teamed up to double up the Double Pilsner style, cranking out a 7% super-pale lager packed with Pilsner malt and loaded with Czech Agnes and Styrian Wolf hops. Crisp and spicy aromas dotted with floral, sage-like undertones of berries, pineapple, and citrus. A slightly bready medium bodied lager flavor continues the European hop onslaught with more herbal and spicy fruity character.
Oskar Blues and NOLA Brewing share a mutual love of music and wanted to create something that embodied the people, passion, and spirit of Jazz Fest. Part of the project was to engage a local artist to create custom artwork for the can. J. Pierre is a legendary Louisiana artist whose work has been featured in Essence Magazine, HBO's Treme, House of Deréon, and in the Mayor of Louisiana's office. J. Pierre utilizes his strong command over mediums such as oil, acrylic, pen, ink, aerosol, and house paint to create a print as vibrant and soulful as the Louisiana culture.
In addition to members from the breweries, the collaboration beer and twenty special edition "The Wolf and the Lamb" signed and numbered giclee prints will be available from J. Pierre on 100lb hot press paper at the following events:
-Avenue Pub 4/20 (Wednesday) @ 4:20pm
-The Bulldog Uptown 4/20 (Wednesday) @ 7pm
-World of Beer Warehouse District 4/21 (Thursday) @ 7pm
-Howlin Wolf 4/23 (Saturday) @ 8pm
-Maison on Frenchmen St. 4/24 (Sunday) @ 8pm
Oskar Blues has been a long-time fan of NOLA Brewing as the first craft-beer-in-a-can brewery in New Orleans and stream of quality beers brewed with love in New Orleans. This partnership marks Oskar Blues one-year anniversary in the Louisiana market.
The brew will be available for a limited time in Colorado and Louisiana markets so get it while you CAN.
About Oskar Blues Brewery
Founded by Dale Katechis in 1997 in Lyons, Colorado, Oskar Blues Brewery launched the craft beer-in-a-can apocalypse with hand-canned, flagship brew Dale's Pale Ale. Today, Oskar Blues is one of the fastest growing breweries in the country and operates breweries in Longmont, Colorado and Brevard, North Carolina, while producing 192,000 barrels in 2015. The original canned craft brewery continues push innovation with the announcement of an Austin, TX brewery in April of 2016 and creations like The Crowler while it distributes to 49 U.S. states, Washington, D.C., as well as parts of Canada, Sweden, and the U.K.
About NOLA Brewing
NOLA Brewing Company, a craft brewery founded in 2008 in New Orleans, makes high quality beers for every palate, from the craft beer neophyte to the aficionado. With each beer we brew, our hope is that it lives up to the standards of the city we call home - no small task. Our brewing philosophy is simple: we brew beers that we want to drink, using the best ingredients available. NOLA Brewing was conceived in the aftermath of Hurricane Katrina when the number of commercial brewers in New Orleans was zero. Now years later, we're proud to have played a part in the development of what has become a formidable local craft brewing industry. NOLA Brewing is located at 3001 Tchoupitoulas Street and online at nolabrewing.com, and on Facebook.com/NOLABrewing and is @NOLABrewing on Instagram and Twitter.
Posted by Russ
Friday, April 15th 2016
Victory Brewing to Release Cans of New Cage Radler on May 1st
Victory's Beer Fans Gear Up for the Ultimate Ride with New Cage Radler
Light, Refreshing Lager Raddles Your Cage on May 1
Victory Brewing Company (Victory) invites their beer loyalists to pedal along on their latest adventure with the announcement of Cage Radler. This light, thirst-quenching lager with a lemony twist serves as a smile and a nod to outdoor enthusiasts and beer lovers alike that the warm weather is here meaning one thing: it's playtime. The radler, Victory's newest creation and an ode to the German word for 'cyclist', blends a light lager with lemons, resulting in a clean, crisp and thirst-quenching taste.
"Addressing our consumers' thirst for quality and innovation is our pleasure and we expect to deliver plenty of summertime pleasure with this release. Ready to enjoy with all outdoor activities, Cage Radler, delivers quenching flavor and on-the-go convenience with cans as well as bottles," said Victory's President and Brewmaster, Bill Covaleski.
Radler, the German word for 'cyclist', came about on a warm June day in 1922 when Franz Xaver Kugler, the owner of a Bavarian inn, was running out of beer while his bar was occupied by thirsty, demanding cyclists. Thinking on his feet, he added lemon-lime soda to dunkel lager and the tasty result became fondly forever known as the radler.
Today, radlers commonly consist of half-fruit soda, half-beer and are still popular among active drinkers who crave a refreshing, low alcohol beverage on their journey. The perfect toast to spring and summer, Victory's Cage Radler is made with all natural ingredients. It pours a golden, lemony yellow with an inviting white foam on top. Slightly hazy and entirely rejuvenating, it features fresh, effervescent citrus combined against a light, yet flavorful, body while carefully balancing sharp notes of lemonade and citrusy zest with earthy, grainy characters. Containing Tettnang Mittelfrueh hops and pilsner malts, this good vibe beer also has an easygoing ABV of 3.0%. With the low ABV but intense tanginess, the radler is ideal for cooling down post-activity and can be best enjoyed outside.
Available throughout Victory's 37 state distribution footprint, Cage Radler's suggested retail price for a 6 pack of 12 oz. cans is $9.99 depending on location and is also available on draft. Cage Radler will also be one of two new offerings included in Victory's Summer Selection's Variety 12- Pack. Use Victory's Beerfinder to fill your bicycle basket with Cage Radler.
About Victory Brewing Company
Victory Brewing Company is a craft brewery headquartered in Downingtown, PA. Founded by childhood friends, Bill Covaleski and Ron Barchet, Victory officially opened its doors in February of 1996. Victory's second state of the art brewery opened in February of 2014 in Parkesburg, PA to serve fans of fully flavored beers in 37 states with innovative beers melding European ingredients and technology with American creativity. Victory operates three brewpubs; the original Downingtown site, Victory at Magnolia in Kennett Square and Parkesburg featuring self-guided tours. Victory recently announced an alliance with Southern Tier Brewing under the parent company of Artisanal Brewing Ventures. To learn more about Victory Brewing Company please visit www.victorybeer.com.
Posted by Russ
Thursday, April 14th 2016
Newburyport Brewing Launches 5th Year Round Beer - Das Kolsch
Newburyport Brewing Launches New "Das Kölsch" Craft Beer
Available In 12oz Cans and Draft Beginning April 2016
Newburyport, MA – April 14, 2016 - Newburyport Brewing Company®, Massachusetts' all-can and keg craft brewery, announces its fifth year-round beer - Das Kölsch. This beer represents the ongoing evolution of full-flavored, refreshing and drinkable craft ales with subtle hop characteristics. At 5.0% ABV, Das Kölsch has a bright golden color and a balanced crisp, clean finish.
"We brewed this easy drinking German-style Kölsch as part of our monthly employee innovation brew day and it immediately became a staff favorite. It was released as a '1635 Series' small batch beer and entered into several regional beer competitions where it won a gold and a bronze medal," said co-founder, Chris Webb. "People loved it, so we knew we had to can Das Kölsch!"
"The Kölsch style was founded and traditionally only brewed in and around the beautiful city of Köln, Germany. The word "Kölsch" means 'of Köln' and it is Germany's only all-barley ale," commented co-founder Bill Fisher. "Plus, Chris and I play in an 8-piece funk band called 'Das Pintos'. Das literally means 'the' in German, so given the tie to our music backgrounds, Das Kölsch was the perfect name for this beer."
Das Kölsch will arrive this week in 12-ounce can six-packs and on draft at select establishments where Newburyport Brewing craft beer is sold. The beer will be available in Massachusetts through the Massachusetts Beverage Alliance network of distributors and in New Hampshire through the New Hampshire Craft Alliance of distributors. Das Kölsch joins Newburyport Brewing's award-winning lineup of Green Head IPA, Newburyport Pale Ale, Plum Island Belgian White, and Melt Away Session IPA.
"Das Kölsch strengthens our portfolio of premier craft beer offerings," stated Brian Murphy, director of sales and marketing at Massachusetts Beverage Alliance. "This is a unique beer and we're excited about offering this drinkable German-style beer in our portfolio. Every beer from Newburyport Brewing Company has impressed our team and craft customers and we're fired up about Das Kölsch."
Das Kölsch will premiere at the brewery's tasting room on Thursday, April 14, 2016. First tap celebrations will also take place at the following venues:
4/21 – The Pour Farm Tavern, 780 Purchase Street, New Bedford, MA – 6:00pm
4/29 – The Port Tavern, 84 State Street, Newburyport, MA – 7:00pm
5/12 – Union Brew House, 550 Washington Street, Weymouth, MA – 5:00pm

5/19 – Hangar Pub & Grill, 29 School Street, Westfield, MA – 5:00pm
About the Newburyport Brewing Company
The Newburyport Brewing Company is a privately held regional craft brewery dedicated to brewing the highest quality craft beers for local and regional consumers. Co-founded in 2012 by two local Newburyport entrepreneurs, musicians, and home brewers - Chris Webb and Bill Fisher - Newburyport Brewing is Massachusetts' own exclusive keg and can craft brewery. The company aims to capture the essence of Newburyport's quaint seaside character across a line of great tasting handcrafted ales. The brewery uses premium quality natural ingredients in its products: Green Head IPA®, Newburyport Pale Ale®, Plum Island Belgian White®, Melt Away Session IPA™, Das Kölsch, and 1635 Series™ small batch beers. Visit the brewery on the Web at http://www.nbptbrewing.com, on Facebook at /NewburyportBrewingCo or follow @NBPTbrewing.
Posted by Russ
Tuesday, April 12th 2016
Oskar Blues Launches New Strain of IPA CANUNDRUM Mix 12-Packs
Longmont, CO & Brevard, NC - Oskar Blues Brewery is bringing more variety to the canned craft-beer world with the addition of Oskar Blues IPA (6.43 ABV, 65-80 IBUs) to its popular mixed up 12-pack, CANundrum. Old Chub Scottish Ale will pull out of the CANundrum to be replaced by OB IPA.
OB IPA joins the existing CANundrum staples, Mama's Little Yella Pils, Dale's Pale Ale and Pinner Throwback IPA. Oskar Blues IPA, released in 2015 and immediately becoming a brewery favorite, features a variety of hand-selected, southern-hemisphere hops creating sweet aromas of passion fruit, raspberries, pineapple and citrus paired with a clean backbone and mouth-feel.
"Old Chub has been a steady staple, but with the popularity of OB IPA, we couldn't deny the introduction into CANundrum," said Tim Matthews, Oskar Blues' Head of Brewing Operations. "The flavor profile is a unique complement to the other brews in the lineup."
CANundrum launched in 2013 and has since become one of the brewery's top selling brands fueled by nearly 75% growth in 2015. CANundrum is an easy way to pick up four popular Oskar Blues brews for trips to the lake, trailside or at music festivals into one convenient pack.
Grab a CANundrum wherever you shop in the 49 states in which Oskar Blues is sold.
#CANUNDRUM
About Oskar Blues Brewery
Founded by Dale Katechis in 1997 in Lyons, Colorado, Oskar Blues Brewery launched the craft beer-in-a-can apocalypse with hand-canned, flagship brew Dale's Pale Ale. Today, Oskar Blues is one of the fastest growing breweries in the country and operates breweries in Longmont, Colorado and Brevard, North Carolina, while producing 192,000 barrels in 2015. The original canned craft brewery continues push innovation with the announcement of an Austin, TX brewery in April of 2016 and creations like The Crowler while it distributes to 49 U.S. states, Washington, D.C., as well as parts of Canada, Sweden, and the U.K.
Posted by Russ