Beers:
1874
Breweries:
493
Styles:
96
States:
51*
Latest beer added:
Pine Belt Pale Ale
Brewed by:
Southern Star Brewing Company
Check out the ONLY canned beer database on the web.
*That includes Washington,DC!
Tuesday, February 17th 2015
Hopworks Urban Brewery Releases Rise Up Red IRA & Nonstop Hef Hop
Hopworks Urban Brewery Releases
Rise Up Red IRA and Nonstop Hef Hop
Today Hopworks Urban Brewery announces the release and distribution of two beers - Rise Up Red India Red Ale and Nonstop Hef Hop. Rise Up Red IRA is available in 16 oz cans and on draft throughout the Pacific Northwest. Nonstop Hef Hop, a session wheat beer, is a new beer, packaged in an innovative series of 16 oz cans. 
Rise Up Red IRA


Rise Up Red IRA is one of the first beers brewed at Hopworks, it won a gold medal at the 2009 Great American Beer Festival and has remained a cult classic for years in the Pacific Northwest. The seasonal offering is an India Red Ale, mahogany in color, smooth, 

made with certified organic barley, and packed to the rafters with organic kettle hops. The beer is then dry-hopped with Salmon-Safe Certified hops at to punch up the aroma. 

6.1% ABV, 65 IBU.
Rise Up Red is part of the Hopworks NW Legends Series, which highlights histories and stories from the Pacific Northwest. The beer's artwork prominently features Mt. Hood, Portland's neighboring mountain, along with the hidden image of another NW legend. Following Organic Rise Up Red in Hopworks' seasonal offerings is Pig War White IPA.
Nonstop Hef Hop


Nonstop Hef Hop is the newest year-round beer in Hopworks portfolio. This low-alcohol, dry-hopped American-Style Wheat beer was created for drinkers who maintain active lifestyles. The beer clocks in at just 3.9% ABV and has the feel of a NW Pale Ale in body and flavor, but without the extra weight and alcohol. Nonstop Hef Hop is brewed with a variety of organic NW hops, organic malted barley, and red spring wheat grown on the Hopworks estate farm on San Juan Island. 
Hopworks adopted a playful and innovative approach to the artwork of Nonstop Hef Hop by packaging it in twelve different 16 oz cans, each showcasing different NW Activities. Each 4-pack will feature a random assortment of designs including: bicycling, camping, running, kayaking, soccer, basketball, darts, corn hole, skateboarding, disc golf, skiing, and fishing.

About Hopworks Urban Brewery


Founded in 2007, Hopworks Urban Brewery is committed to brewing world-class beer as sustainably as possible using organic malts and hops sourced primarily from the Northwest. The company's 20-barrel brewery produces 12,500 barrels of beer a year for HUB's two brewpubs and for distribution in Oregon, Washington, Idaho and British Columbia. Hopworks incorporates a range of sustainable practices in its operation and makes every effort to protect "our" future with a thoughtful alternative.  HUB is 100% renewably 

powered and "cradle to gate" carbon neutral. Visit Hopworks online at

 

www.HopworksBeer.com

 and follow us on

 

Twitter

 and

 

Facebook

.

Posted by Russ
Sunday, February 15th 2015
15 Great Places to get a CROWLER
The Crowler™ (CAN+Growler). 32 oz. of canned f'ing awesomeness. Unless you've been passed out under a rock these past 12 months then you've probably heard a little about this latest craze when it comes to craft beer. The Crowler™ is the brainchild of Jeremy Rudolf of Oskar Blues Brewery (of course Oskar Blues was involved with yet another canned beer innovation) and Ball Corporation.

The CROWLER™ in action...
Back in November 2013, the brewery began filling these big cans with draft beer at their Tasty Weasel Taproom in Longmont, Colorado. They ingeniusly modified a tabletop canning machine, the type typically used for canning food at home, which enabled them to hand seam the lids on the cans one at a time right behind the bar (see the video above). It wasn't long before other breweries wanted to fill their own Crowler™ cans...and...well, the rest is history. There are now over 100 different bars, breweries, taprooms, growler stores, and restaurants in at least 5 different countries now offering Crowler™ fills. Here are 15 great places, in no particular order, that we feel are worth checking out! Cheers!
Oskar Blues' The Tasty Weasel Taproom (Longmont, Colorado)
Where it all began. Swing by the bar, its connected to the ever growing Oskar Blues brewery compound, and grab a few Crowler™ cans of barrel-aged Ten Fidy and/or one of their numerous one off and specialty brews. Hell, you can even grab a Crowler™ of their very own coffee beans (known as OBeans) that are roasted onsite and used in a few of their beers.
Cigar City Brewing Company (Tampa, Florida)
Florida is one of only two states that currently bans sales of 64 oz. growlers so 32 oz. growlers, and now Crowler™ cans, have been pretty popular for awhile. One brewery that you'll definitely want to visit and grab a few big cans to go is Cigar City (if you like beer you already know this). The brewery has a ton of amazing beers on tap (as well as a few ciders) so after you've sampled your share be sure to grab a few to go.
Camden Town Brewery (London, UK)
Camden Town Brewery is a big part of the growing British canned craft beer revolution and the first to offer Crowler™ fills. Check out their taproom and sample their lineup of six core offerings as well as several limited releases before walking out with a few big cans!
Lone Star Taps & Caps (Lewisville, Texas)
This bottle shop and growler station located just north of Dallas is pretty much exactly what any craft beer fan would want located just down the street. It's clean, its sleek, and it features over 50 beers on tap that you can sample onsite or get in a Crowler™ to go. They've even get special Crowler™ labels made for special in-house brewery events (check out that Odell label above!). If you find yourself in Big D, keep up the theme and grab some Crowler™ cans from this place!
Mendez Fuel (Miami, Florida)
Mendez Fuel is not a craft beer bar with a quirky name. Its an actual gas station where you can fill your gas tank and run inside for lottery tickets and a few fresh Crowler™ cans filled with any of 16 different craft beers on tap. When a gas station has that many beers on tap we think its fair to say that craft beer can now be found everywhere!
DryHop Brewers (Chicago, Illinois)
DryHop is a one-stop type of place. Thirsty? They've got a great selection of beers brewed onsite. Hungry? They've got a pretty awesome menu. This is one hell of a gastro-brewpub and guess what? Yep. You can get a Crowler™ fiilled with Shark Meets Hipster (their Wheat IPA) or any of their other brews. Awesomeness.
Rhinegeist Brewery (Cincinnati, Ohio)
Cincinatti's beer scene continues to blow up and Rhinegeist Brewery is a huge part of all the great beer-related things going on in the Queen City. The brewery and taproom is located in a 25,000 sq ft space that is just plain epic. Cruise by nearby Findlay Market and grab some food before grabbing a seat and working your way through all of their top notch brews. When you're heading out just be sure to grab a Crowler™ (or two). Yes, they are really badass looking...just like all of their cans.
Moody Ales (Port Moody, British Columbia, Canada)
Located just outside of Vancouver, in beautiful BC, Moody Ales was the first establishment in Canada to offer the Crowler™. Visit the brewery and sample beers such as their Affable IPA or Smouldering Smoked Porter. By pre-packaging , Moody Ales makes grabbing a big ass can of their beer as easy as just grabbing whatever you need from the cooler.
Modus Operandi Brewing (Mona Vale, NSW, Australia)
Located north of Sydney, Modus Operandi is an award-winning Australian craft brewer with a penchant for American-style beers. They also just so happen to be the first brewery in Australia to offer their beer in Crowler™ cans - which might have something to do with the fact that they imported a former Oskar Blues brewer to make some kickass brews. As an FYI, if Australia isn't on your list of places to visit, well, it should be. It's an incredible country and has a ton of great little breweries producing some incredible beers.
Hough's Taproom & Brewpub (Pittsburgh, Pennsylvania)
Hough's has 70+ taps and you can get a Crowler filled with any of them. Despite some ridiculous alcohol laws, Pennsylvania surprisingly makes it very easy for bars and restaurants to sell beer to go. Hough's takes advantage of this and gives lucky patrons the opportunity to take home a few Crowler™ cans of that hard to find beer they just enjoyed at the bar. Why can't more states be like this?
Ska Brewing Company (Durango, Colorado)
Ska Brewing sits pretty high on our list of breweries we've yet to visit. Not only is it a big part of the canned craft beer scene but it also sits in an amazing part of Colorado and offers some legendary beers. Oh yeah, its also 100% wind-powered and is the home of the one and only The Container restaurant <--click on that link, seriously. Since Ska is good buddies with the Oskar Blues crew, they were one of the first to adopt the Crowler™. So, go there and grab some!
Strangeways Brewing (Richmond, Virginia)

Part of the RVA craft scene, Strangeways brews up a solid helping of everyday offerings as well as a selecion of barrel-aged beauties and mouth-puckering sours. Recently Strangeways added the Crowler™ (a.k.a. the CAN-ABLE) option to the mix and now fans can get fresh cans of draft beer filled and seamed right there in front of them.
Garrison City Beerworks (Dover, New Hampshire)
This little brewery, which just opened in December, is the first in New Hampshire to offer Crowler™ fills. Having just opened for business a few months ago, they've got a lot going on. In the brewhouse they're focusing on Pale Ales, Porters, Belgian Ales, Wild Ales, 100% Brettanomyces beers and more. Definitely worth stopping in if you're driving up the coast of New England anytime soon.
SanTan Brewing Company (Chandler, Arizona)
SanTan is leading the charge when it comes to canned craft beer in Arizona. They were one of the first brewers in the state to can their beer and they play host to the annual AmeriCAN Canned Craft Beer Festival held in May each year. Along with being the first in Arizona to can their seasonal brews, they're also the first in the state to offer the Crowler™...which they've dubbed the CanZilla.
West Sixth Brewing Company (Lexington, Kentucky)
West Sixth was the first craft brewer in Kentucky to can their beer. They're now the first to rock the Crowler™ - which they began filling last summer. Cruise by the taproom and you can sample a long list of beers - including their new spring seasonal which is a Belgian-Style Blonde. When you head for the door make sure to grab some Crowler™ cans to share with friends who couldn't make the trip.
For more on the Crowler™ check out http://www.oskarblues.com/crowler/ or email crowler@oskarblues.com
Posted by Russ
Thursday, February 12th 2015
Sixpoint Launching Cans
of ABIGALE in March
Brooklyn-based Sixpoint Brewery today announced the resurrection of the "ABIGALE" -- an original Sixpoint formulation first crafted in 1999, while founder Shane Welch was a hippie living in Madison, Wisconsin. During this crunchy granola phase of his life, he was romanced by the stories of craft beer staying alive during the "Dark Ages" through the monastic brewing traditions across Europe. After reading through dozens of brew books, Shane was inspired to take things in a new direction. He purchased a bottle of Chimay from Riley's Wines of the World, drank 90% of the beer, and cultured the remaining yeast in the bottle with a malt starter solution and an airlock. Three days later, ABIGALE was born.

"I remember one Saturday evening watching the yeast swim around in the carboy, which I clutched like a newborn baby" remarked Welch. "I shined a flashlight in the beer and gazed into the interior of that vessel, mesmerized by the swirling turbulence of fermentation. It was bad-ass! These medieval monks must have thought there were crazy demons swimming around in these beers. Wicked!"

Things went smoothly until the high-gravity beer, which fermented out to 8.8% ABV, exploded and blew the airlock into the air, and created a projectile of yeast and krausen all over the place. To make matters worse, the carboy was kept in the closet, and it ended up spewing all over his roommates' winter coats. Welch recalled, "They were pretty pissed off. But when I told them there was beer involved and I'd take care of the dry cleaning, they pretty much shrugged it off and went back to playing video games."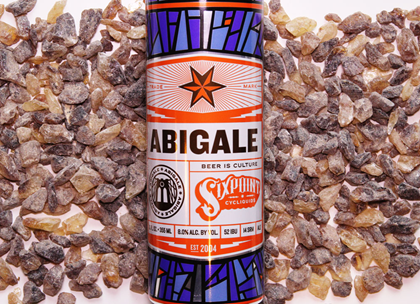 ABIGALE, lovingly known as "Abbey" at Sixpoint - which is a play on A-BIG-ALE (see what we did there?), is an abbey-stylie inspiration. Like all Sixpoint beers, it does not intend to recreate a classic style, but instead draw inspiration by soaking in the culture and experience of these traditions, then riffing out a unique jam. Sixpoint Brewer Shaun Carney commented, "I think the the way the beer is tasting is not a classic Abbey - which is good, because we don't want it to be. It celebrates the abbey brewing history but it also celebrates the American brewing industry. The blending of the classic European malts, the Belgian tradition of adding candi sugar, procuring an authentic Abbey yeast, and blending in American hops take this beer into a new direction. I'm psyched!"
Sixpoint traveled to the Netherlands and Belgium to meet with the Abbey and Trappist brewers, learn more about the classic monastic brewing traditions and fermentation specifications, and soak up the energy of the Original High Gravity brewing crew. Getting some high-fives from the brother (and father) brewers was exactly the type of good vibes the Abigale needed to get it over the goal line. "There's something really special about crafting an original recipe on the stove, then 16 years later traveling to Belgium to meet the dudes who inspired the source of everything...and then dropping this OG in a sixer for our fans network wide" Welch beamed. "The combination of spicy yeast flavor, rich malt, and American hops is what beer lovers have been praying for!"
Posted by Russ
Saturday, January 24th 2015
Cheers to 80 Years of Canned Beers
It was 80 years ago today that the first cans of Gottfried Krueger Brewing Company beer went on sale in Richmond, Virginia. On that day beer drinkers got to experience opening and enjoying a can of beer for the first time and the response was almost immediately, and overwhelmingly positive. Within a year brewers from across the country would begin packaging their beer in cans and the landscape of packaged beer would be forever changed. Below is a timeline that shows notable events over the past 8 decades of canner beer.


CRAFT BEER CAN HISTORY
In 2002, a little known brewpub in Lyons, Colorado began hand-canning an assertively hoppy pale ale in a barn adjacent to where it was brewed. This innocent move by Oskar Blues, recounted time and time again, ushered in a new era for craft beer and the beginning of a new found respect for the beer can.

The Original Oskar Blues Dale's Pale Ale Can (c. 2002)
In the decade that followed more and more American craft brewers would look at canning as a viable option. Minimum orders and different labeling options would make canning more appealing, as would the introduction of a variety of smaller, more affordable canning lines. In 2012, the first mobile canning operations sprang up in California and Colorado. Today, they are found in almost every metropolitan area of the country helping breweries of every shape and size to get their beers in cans. There are now over 475 American craft brewers canning over 1,800 different beers. Almost 100 different styles of beer have been put in cans of a growing variety of shapes and sizes.

Cans from Greenbrier Valley Brewing Company in West Virginia
Just a few weeks ago, a small brewery in Lewisburg, West Virginia made history by becoming the first brewery in the state to can their beer in over 40 years. West Virginia was also the last state in the country to have a craft brewery that canned their beer. It can now be said that there is at least one craft brewery in every US state plus Washington, DC that cans their beer (click on the map below to see which breweries are canning in each state).

At least one craft brewery in every US state is now canning their beer!

The future of cans is bright. Consumers are increasingly more accepting of cans and their many benefits and more and more brewers are choosing cans. Can designs are becoming works of art akin to the liquid inside them and can collecting is even experiencing a renaissance. Perhaps the novelty of cans is wearing off, but the quality and diversity of beer that is filling today's cans will continue to be celebrated for years to come. Open a can and celebrate with us!


#BeerCanAppreciationDay #CraftCans
Posted by Russ
Friday, January 23rd 2015
Q & A with Richard Roche of Cast Iron Design in Boulder, Colorado
Designers of Finkel & Garf's Cans
Finkel & Garf Brewing Company was founded by Eric and Dan Garfinkel, a father and son team that share an affinity for good beer. The brewery, which opened just last year, chose cans for their retail market and like many small craft brewers they went with a talented local design firm for their logo and label art. One look and you can tell that a lot went into the designs - and there has to be a story behind that big wheel in the brewery's logo, right? We threw a bunch of questions at Richard Roche of Cast Iron Design to learn more about the design work they did for Finkel & Garf and what some of the challenges of label design can be and he was kind enough to respond. Cheers Richard! Great job and we're looking forward to trying some beers from Finkel & Garf soon...
(CC) Tell us a little about what you do?
(RR) We are a design studio in Boulder, CO specializing in branding and all extensions of a brand. We do brand identity, print, packaging, web design, development, copywriting, and pretty much anything else we can get our hands on.
(CC) What was your involvement with Finkel and Garf?
(RR) We created the brand identity and 8 beer labels (so far) for Finkel & Garf.
(CC) How many label designs iterations usually are done before the final design is chosen/approved?
(RR) We don't always hit it (the design and refinement process is always a bit fluid and unpredictable), but we typically shoot for 2–3 iterations with every design we create.
(CC) What was the inspiration behind the designs you did for Finkel and Garf?
(RR) Before starting a brewery, the father and son duo ran a successful business selling classic toys. We played off of their history—and their desire to oppose the "wine-ification" of craft beer—to create a coat of arms. The various toys represented in the coat of arms were selected to inspire people from all generations to reconnect with their childlike sense of wonder and excitement.
"The various toys represented in the coat of arms were selected to inspire people from all generations to reconnect with their childlike sense of wonder and excitement."
For the labels we tried to balance the whimsy of the logo with a more straightforward approach to rest of the design. They chose to use clear, descriptive names for their beers and we wanted to emphasize the refreshing functionality of that decision with a type-heavy layout. Sticking to two colors for each design also added to the straightforwardness of the design and helped the product to stand out on the shelf.
(CC) What do you see as the biggest challenges of beer label design?
(BR) The biggest challenge in the craft beer market is to stand out on the shelf while at the same time communicating a level of quality, consideration, and good taste on the part of the brewery.
(CC) As designers, how much do you think people buy beer based on the label art?
(RR) It definitely makes a big difference. We've heard multiple stories about people buying Finkel & Garf based on the labels. We also love craft beer and feel that a well considered label is generally indicative of a discerning brewery (although there are always exceptions).
(CC) These are sticker labels, is there a possibility of a move to printed cans in the future?
(RR) Printed cans require enormous investments in quantity, and starting with sticker labels allowed them to can a robust lineup from the start. Having a large variety was important in their goal to create an approachable product as they strive to have something for everyone. Printed cans are a possibility for the future, but for now we've embraced the uniqueness of the labels and the matte finish we were able to apply to them.
(CC) Have you been involved with other design work in the craft beer industry?
(RR) Not at the moment, but we are currently working with a craft distillery and we'd love to do more work within the craft beer world in the future.
(CC) Every week it seems that Boulder has a new brewery. What are some of the best things about living in a town with so much craft beer presence?
(RR) The competition keeps raising the bar for everyone and the consumer ends up winning. Even the established breweries are expanding their lineups and building new tap rooms. For the most part they all seem to have their own niches and specialties so the selection in town is unreal, not to mention all the great stuff going on in Denver, Fort Collins, and the rest of Colorado.
Posted by Russ